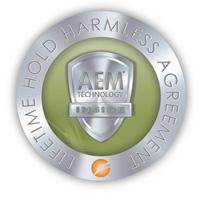 AEM® instruments eliminate the risk of burns in laparoscopy. We guarantee it. In fact we believe in our AEM technology so much, we offer a legal contract to all of our customers in the form of a 100% hold harmless agreement. The agreement offers complete indemnity to any physician and/or hospital using AEM instrumentation, for stray energy burns to the patient.
No other company in the world offers this type of guarantee for you and your patients. This is because no other technology eliminates stray energy burns to the patient.

AEM instruments shield and actively monitor zones 2 and 3. These areas of the instrument are in contact with the patient and outside the physician's field of view during a laparoscopic procedure. By actively shielding these areas from insulation failure and capacitive coupling, Encision guarantees stray energy burns are eliminated.
---